Leon's greatest joy was teaching. For those of us that had the privilege of hearing of his wise words, we will always remember the great passion with which he spoke. He always emphasized that each one of us had very special treasures that were unique to only us. Our precious Leon always encouraged us to be proud of our differences and tolerant of the differences of others.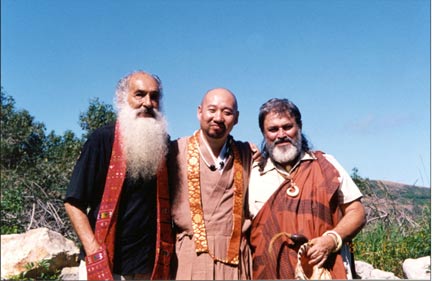 Flying Eagle with his dear brothers, Rev. Zuiko and Sam Kaai.
Flying Eagle loves ceremony and celebrating the holy seriousness of life with his many friends and large family. He has spent much time chanting and giving blessings to our beautiful Blue Planet and all of her inhabitants. Leon was not traditional and always taught that simple words spoken from the heart were the most powerful ceremonies.
---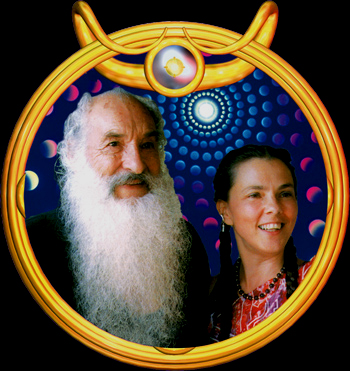 Leon & I became friends, lovers, partners and constant companions on a magical moonlit night in 1975. Our life together has been filled with artwork and music, science and philosophy, crystals and gold mines, and signs and wonders. We shared many awesome adventures and enjoyed a facinating journey to discover the origins of the dual nature of our beautiful earth tribe. Now we begin a new journey together.
The wind gentley flows upon the face of the earth,
the eagle soars above the heavenly cloud heights;
they come together in mystical contact.
.
---
.
Visit our about the authors of Atlantis Motherland page.
Trinity by Flying Eagle & Whispering Wind, 1983.