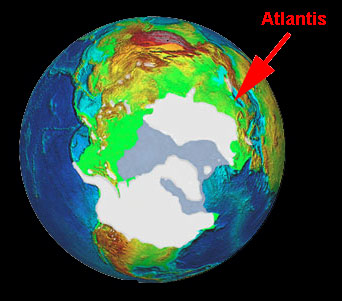 Giant ice sheets covered parts of the Earth.
Atlantis was founded, during the ice age, in a warm refuge area located in the Ukrainian Steppe, north of the Black Sea. The tribes that journeyed to the Ukrainian Steppes enjoyed hunting the plentiful wild herds, of all types of animals, that congregated in this refuge.
---
Atlantis was founded in an Ice Age Refuge Area

During the early founding of Atlantis, there were three ice age refugia in Europe. One was in Spain, one in the Balkans, and the other in Ukraine. The ancient Greek empire was sheltered by the Balkan refuge. The long periods of isolation of these populations actually caused DNA mutations that scientists use to track the migrations of people across Eurasia.

Spain and the north Aegean have been extensively studied as possible locations of Atlantis. However, our research indicates that Atlantis was founded in the Ukrainian Ice Age refuge.

Atlantis was an ice-age paradise.

Seeking shelter from the cold northern blasts, horses, antelope, musk ox, reindeer, wolves, white fox, grey fox, rabbits, bats, red deer, owls, and various rodents congregated in the vast fertile plains of Ukraine and Southern Russia. This concentration of animals, combined with the rich rare black soil, natural resources, and mild climate made this refuge the perfect spot on earth to found Atlantis.



"... the island itself provided most of what was required by them for the uses of life. ... There was an abundance of wood for carpenter's work, and sufficient maintenance for tame and wild animals ... other sorts of animals, both for those which live in lakes and marshes and rivers, and ... those which live in mountains and on plains ..." Also ... fragrant things ..., whether roots, or herbage, or woods, or essences ..., grew and thrived in that land; also the fruit ..., affording drinks and meats and ointments, and good store of chestnuts and the like, which furnish pleasure and amusement, ... all these that sacred island ... brought forth fair and wondrous and in infinite abundance." ~Plato
>>read full quote


Plato's Atlantis Dialogues state that the Island of Atlantis was excavated from a vast fertile plain, which contained abundant water, plants and animals. Dense forests of oak trees, elm, hazelnut, beech, and many deciduous scrubs flourished in southern Ukraine, the Crimean Peninsula, and Southern Russia, as documented by pollen records dated between 11 to 14 kya. The Crimean Mountains still contain the widest variety of plants on earth.